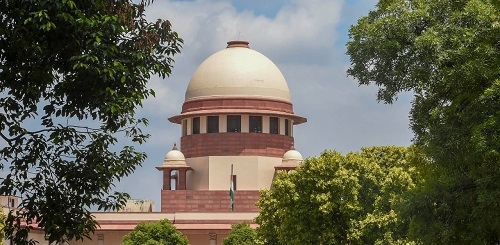 SC issues notice to government on SLP filed by docs on reservation
Legal Correspondent
A two-judge bench of the Supreme Court presided over by Justices DY Chandrachud and Hima Kohli on Friday issued opinions to the state of the deputy in a Special Leave Petition (SLP) filed by a number of government doctors and of state physicians who challenged the de-booking of 30 percent of seats reserved for them in PG medicine classes. The SLPs were filed against the judgment of the Divisional Bench of the High Court of Madhya Pradesh, which had upheld the removal of 30% of the seats from the quota after the conclusion of the second round of councils, finding this to be in line with Rules 4 and 14 of the 2018 State-regulated Medical Admission Regulations. The SC, however, declined to grant interim relief for the current year, but agreed to consider the constitutional law issue for the upcoming 2022-23 academic year, given the seriousness of the problems reported by the doctors. callers. Appellant Dr Shaline Agrawal and others were represented by attorneys Siddharth R Gupta, Abhikalp P Singh and Shivam Baghel, where the state was asked to respond in four weeks.
The petitioners are all serving doctors who had served in the remote, rural, tribal and interior villages of the state for the prescribed period of three years and more and claimed the benefit of a reserved quota of 30% in medical courses. PGs exempted by the State of MP for these doctors. The state in the orientation and admissions process conducted for the 2021-22 academic year had reserved all of these in-service quota seats and allocated them to applicants in the open/direct category, which was assailed by all before the High Court on the principal ground that there is no such provision in the Parenting Rules for the de-booking/conversion of seats from quota to non-service
service quota. It was further argued that the constitutional reservation for SC, ST, OBC and EWS would apply within the separately assigned quotas which are in separate silos from each other. Accordingly, the claimants argued before the High Court as well as the Supreme Court that in order to implement the reservation, the seat should not be converted into a non-service quota but should be kept in the same dedicated 30% bucket. of the High Court in the contested judgment, while refusing to grant the relief sought, held as follows: "A careful reading of sub-rules (1) and (2) of rule 14 leaves no doubt as to the fact that 'vacation' means all vacancies and not vacancies limited to "serving candidates" In other words, in sub-rule (2) of rule 14 reference is made to Subrule (1) of Rule 14(1) At the cost of repetition, in our opinion, the vacancy of subrule (1) relates to the aggregate of vacancies of all available subjects in government
and private medical schools as well as dental practices
hospitals.