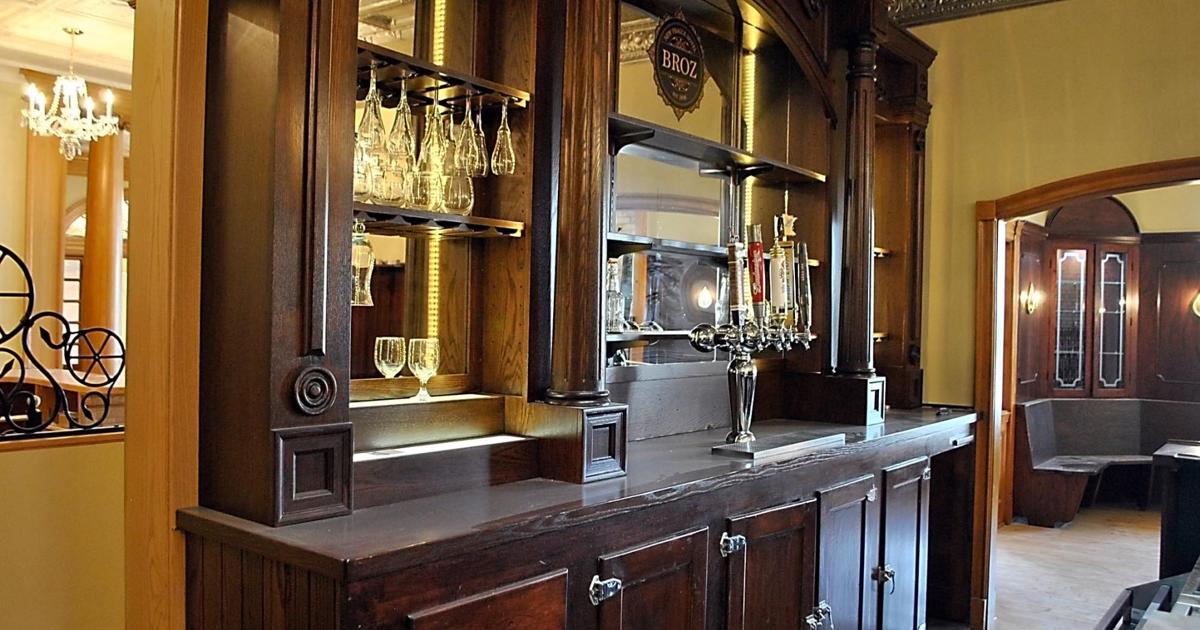 Return to Glory: Restoring a New 19th Century Prague Hotel | New
NEW PRAGUE – A significant part of New Prague's history seems much more polished these days.
The Broz Hotel, built by Bohemian immigrant Wenceslaus S. Broz in 1898, is nearing the end of a total renovation – a project that took the Edina-based Caspian Group about six months to complete. The 18,000 square foot hotel and restaurant needed a total facelift and modern update, while retaining its original 19th century look in every room.
"What we specialize in is buying distressed properties," said Justin Fuller of Caspian Group, a commercial real estate brokerage and asset management firm. "This property here in New Prague was basically distressed and vacant by the previous owners who had it, and the renovation (they started) was not complete."
The project was unusual for Caspian Group, Fuller said. With few exceptions, the company tends to buy and renovate commercial properties such as warehouses, office buildings, strip malls, and auto malls within a 30-mile radius of the Twin Cities.
The smaller size of the New Prague market (estimated by Caspian Group at 11,989 people living within 5 miles) and the age of the property also made the project unique.
"It's really the first hotel we've bought this old," Fuller said. "We had to put a lot of time and effort into it."
The building at 212 Main St. West — designed by Cass Gilbert, the architect who designed the State Capitol — has been on the National Register of Historic Places since 1982. John and Nancy Schumacher had purchased the building in 1974, remodeled it and transformed. in Schumacher's restaurant, which was a popular restaurant in New Prague for years. The Schumachers were responsible for adding the building to the national register.
During the renovations, Caspian Group ensured that the original look and integrity of the property was maintained, Fuller said.
All HVAC, electrical and plumbing have been updated. Most of the wood floors, moldings, doors and window frames have been redone.
Modern updates included emergency lights, a sprinkler system, fob access to guest rooms, and Wi-Fi. Bathrooms in each of the 13 rooms have been updated with glass walk-in showers, subway tiles and new countertops.
Original chandeliers, tin ceilings, beams, stained glass and paneling remain throughout the building.
"We had to keep that historic look," Fuller said. "We matched the brick previously used on the exterior. … We left the bar (cherry) in the same style. Even the door hinges, one of our contractors ordered them from Europe because we couldn't find them (in the US).
The hotel has two banquet halls, a restaurant and a bar. Fuller said the kitchen has undergone a complete renovation and now has the latest commercial kitchen equipment.
New Prague resident Ashley Gauthier recently visited the hotel and restaurant and wants to open a restaurant there. Gauthier has never owned her own business, but she has a background in chef and in the hospitality industry.
Gauthier discovered on Facebook that Caspian Group was renovating the property, and she was excited about the potential it had to boost the city's appeal, "start bringing New Prague to life" and help others businesses to prosper.
"My vision is to make it a family hotspot," Gauthier said.
Gauthier said she wanted the restaurant to be a "good family dining experience" during the day and a cool place for an evening of drinks and appetizers with friends. She's considering Sunday morning yoga on the grass outside with breakfast and mimosas afterwards.
"I really think that's what downtown needs," she said. "I think whether it's me or whoever else walks into the building, I think it can be something amazing."
The rear of the property has a new large balcony and patio, two wrought iron staircases and new brick pavers which have been installed to create a 50 space parking lot.
Caspian Group has the property on the market for sale at $1.3 million or a lease for $10,000 per month. The lease for the restaurant space alone is $4,000 per month.
Fuller said the final touches, including furnishings, will be in place on the open house date, 5-8 p.m. on Sept. 15.
"It's beautiful, really old-fashioned," Fuller said. "We are already very interested in it."
For more information, visit caspianrealty.com or call or text 651-353-1266.